Last weekend I traveled to Atlantic City, NJ to watch Pete Sampras playing an exhibition match. I was very much excited and was looking forward to watch Pete live for the first time in my life. Never before had I watched a Tennis match featuring Pete Sampras live in a Stadium, I was very happy that my dream of watching the Great Champion is going to be a reality.
The match was on Saturday evening and was eagerly waiting for that occasion. I had no idea that Pete was making an appearance for fans at 12:30 noon that day at the tennis village. I was passing by the tennis village and saw on display that Pete was there between 12:30 and 1:00 PM. Thinking that I missed a once in a life time opportunity to meet Pete, I was going  to shopping center and in the middle of nowhere I saw Pete Sampras coming in the opposite direction. I could not believe my luck and without wasting a moment went to him greeted and spoke for a couple of minutes, took his autograph on his autobiography – A Champion's Mind (Picture 3rd in this blog). It has been my dream for nearly 20 years to meet Pistol Pete and finally that became true on that afternoon of April 10th 2010 at 1:26 PM.
You can see how much excited I was when I met him in this picture.
That was Pete talking to me.
Pete's Autobiography A Champion's Mind signed by him on that day.
One more souvenir from Atlantic City, this one too signed by Pete when I met him in person.
Later that evening, I watched all the matches and enjoyed every moment of it. I recorded few minutes of the match between Sampras and Safin watch it below.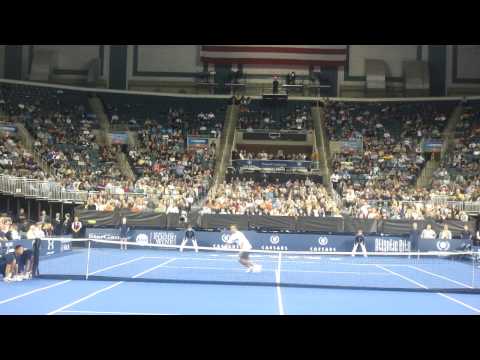 Had it not been my brother, who informed me that Pete Sampras is visiting Atlantic City, NJ and arranged my trip, I would have missed the opportunity of meeting my favorite Tennis Star.
–Bru Medishetty